Designated Marksman Scope
5 AND 500 YARDS ARE BOTH LESS THAN A HEARTBEAT AWAY.
The Designated Marksman Scope, by Millett. 5 to 500 yards, down on the spot. The best of riflescope-type optics and red dots meet in this compact, extremely versatile and rugged design for close quarters to mid-range combat. Its specialized reticle allows you to switch from precision shot placement to rapid target acquisition in less than a heartbeat.
Features
18 MOA donut for rapid target acquisition at ranges as close as 3 meters.
Illuminated dot reticle allows you to see your target clearly in low-light conditions
1 MOA dot for optimum medium- to extended-range
precision out to 500 yards
Magnification: 1-4x
Objective Diameter: 24mm
FOV @ 100 yards: 23' @4x and 90' @1x
Eye Relief: 3.5"
Tube Diameter: 30mm
Optics: Fully Coated
Reticle: Donut-Dot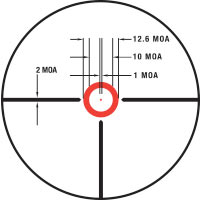 The Designated Marksman Scope Reticle offers quick sighting under the most demanding conditions of close combat or dangerous game. The "Dot-in-a-Donut" aligns naturally to give accurate shot placement at ranges of 3 meters to 400 meters. Range measurement by use of the known scale of the donut is a simple matter.