Tactical Rifle Scopes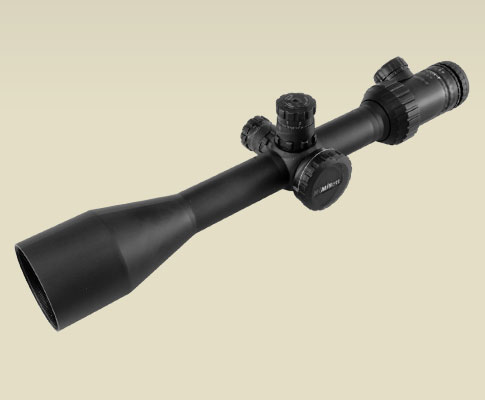 ENGAGE. NEUTRALIZE. NEXT.
The TRS precision tactical riflescope with illuminated Mil-DotBar reticle, by Millett. Bright multi-coated optics and our illuminated Mil-DotBar reticle system clear the way through low light and over great distances to deliver your bullet with pinpoint accuracy. Add this scope's virtually bulletproof design and precision controls, and you're the master of any mission.
Features
Adjustable green illumination for precision in varied lighting conditions.
Mil-DotBar system functions as a standard Mil-Dot with the addition of a thin line for easier alignment for rangefinding and holdover.
Magnification: 4-16x
Objective Diameter: 50mm
Eye Relief 3.5"
Tube Diameter: 30mm
Optics: Multi-Coated
Reticle: Illuminated Mil-DotBar
Item
Power/Obj
Tube
Reticle
Lens Coating
Eye Relief
Finish
Weight/Length


oz / g | in / MM

Click Value


@1000 yds.

BK81424
1-4x 24mm
30mm
Illum. Donut-Dot
Fully Multi-Coated
3.5"
Matte
18.4 / 522 | 11.3 / 286
.5 in.
Buy Now
BK81424A
1-4x 24mm
30mm
Illum. Donut-Dot
Fully Multi-Coated
3.5"
ATACS
18.4 / 522 | 11.3 / 286
.5 in.
Buy Now
BK81624
1-6x 24mm
30mm
Illum. BCR-1
Fully Multi-Coated
3.5"
Matte
20.7 / 588 | 10.5 / 267
.5 in.
Buy Now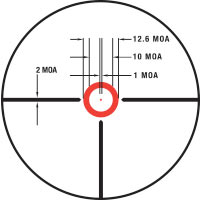 The Designated Marksman Scope Reticle offers quick sighting under the most demanding conditions of close combat or dangerous game. The "Dot-in-a-Donut" aligns naturally to give accurate shot placement at ranges of 3 meters to 400 meters. Range measurement by use of the known scale of the donut is a simple matter.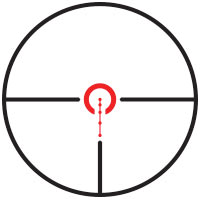 Calibrated for .223/5.56 ammunition, provides hold over points out to 500 yds.